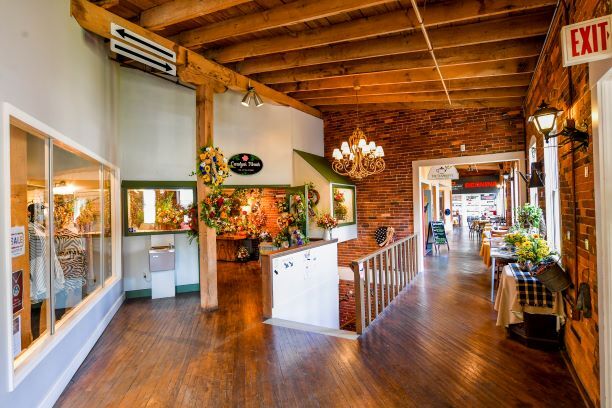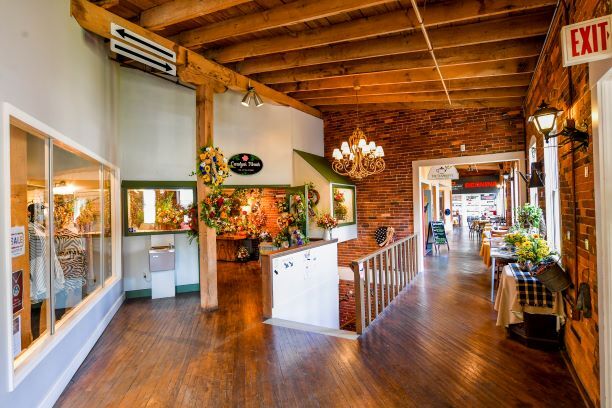 Seneca Center is a unique property. The building was built in 1895 by a group of Morgantown entrepreneurs to entice Seneca Glass to move here from Seneca, Ohio. Seneca Glass Company operated in this facility until 1983, when it filed for protection under the federal bankruptcy code. The property was sold at auction and the buyers converted it to a retail shopping facility. The entire property was remediated for lead paint and asbestos. The structure is post and beam of 8 x 8 American Chestnut, and was placed on the National Register of Historic Places.
Brick-lined walls and worn wooden floors greet visitors as they wind their way through the assortment of privately owned specialty shops and restaurants. Much of the character of the building has been richly retained, intermingling classic yet distinctive merchandise with warm hospitality.
The center boasts authentic glass manufacturing tools and murals of the glass making process. The towering 100-foot glass furnace chimney still stands on the property. Located on one of Morgantown's main thoroughfares leading to downtown, only a few hundred feet from the new WVU John Chambers College of B&E.
The mix of tenants are high end shops all of which are strong financially.
120 parking spaces
2.13 acres between 6th and 8th Streets.
46,460 Square Foot building
37,646 Square Feet available for lease
25 separate suites, short leases, mix of retail tenants
Upgraded utility entrances.
2 water meters
2 gas meters
11 electric meters, 3 phase
Fire suppression system
Electronic fire alarm
Surveillance cameras
30,000 square feet of steel roofing
Survey by Thrasher Engineering
Phase I and Phase II Environmental Analysis by Steptoe Environmental (no restrictions)
Certification on the National Register of Historic Places, Historic Preservation Tax Credits renew with change of ownership.
Contact us for more details