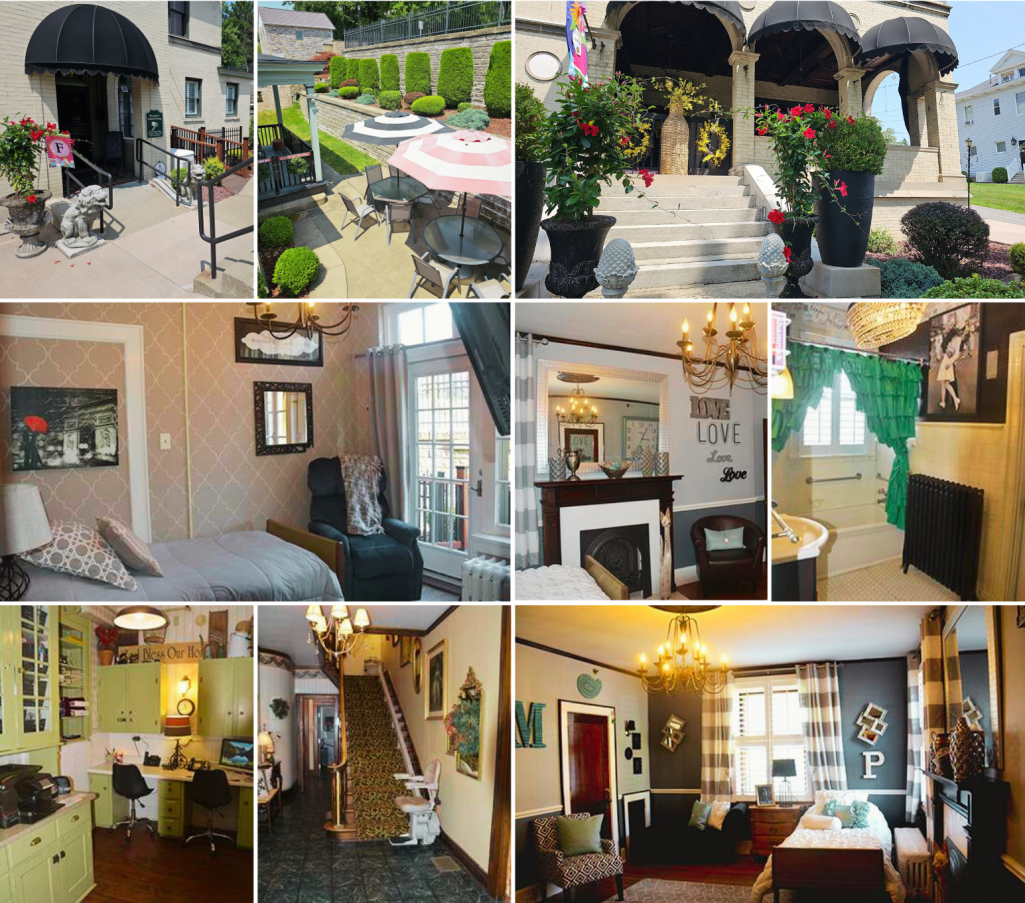 Two Properties for sale. 213 and 219 Locust Ave in Fairmont being sold as a portfolio. The Fitzwater's Assisted Living has been family owned and operated for over thirty-five years. Zoned Main Corridor Commercial* these upgraded and spacious facilities are perfectly situated to host a number of business types.
The Sterling Place
213 Locust Ave, Fairmont
The Sterling Place is a large colonial-style home that currently offers senior living rooms for residents. This 110-year-old facility has been beautifully maintained with hardwood floors, coffered ceilings, pocket doors, and a mahogany fireplace, creating a relaxing atmosphere. The Sterling Place also offers several outdoor amenities such as a large front porch, a back porch with wheelchair accessibility, a large patio with covered tables, and a walking path for daily walks.
The first floor of this facility offers a spacious living room for socializing and activities along with a dining area. Additionally, there are three bedrooms and a bathroom on the first floor, with one ADA bathroom available. The second floor boasts a stunning original 12×15 stained glass window, a grand staircase, a unique catwalk leading to the third floor, and an additional staircase leading to the main floor of the home. Each bedroom on the second floor has its own bathroom, with one ADA bathroom also available.
The Chandler House
219 Locust Ave, Fairmont
The Chandler House is an exceptional property. Built in 1918, this Mediterranean-style mansion has been meticulously maintained and updated to offer modern conveniences such as gas heating and central air conditioning. The property boasts a spacious 5071 square feet, which can comfortably accommodate up to 16 residents.
The charming older home boasts pocket doors, French doors, hardwood floors, terra cotta tiled porches, and a conch shell stone fireplace. Every room in the house is thoughtfully decorated with features such as coffered ceilings and custom-made shutters. The grand staircase in the foyer, along with an additional staircase in the back of the home, add to the property's allure. The large front porch allows you to enjoy the beautiful weather and the side porch is wheelchair accessible.
The first floor of the property offers a large living room for socializing, a dining room with a fireplace, two bedrooms, and a bathroom. The second floor is full of spacious bedrooms, each with its own bathroom. The Chandler House truly offers a unique living experience that is sure to delight residents and visitors alike.
*"The Main Corridor Commercial district is coded to encourage the development of large-scale mixed-use districts that complement the surrounding neighborhoods and are supported by existing and planned transportation networks constructed to support the traffic demands of both the auto and the pedestrian. Main Corridor Commercial districts traditionally form near the convergence of large, coherent neighborhoods. The pedestrian can therefore walk to services and shopping within one of the Main Corridor Commercial centers within 10-15 minutes. Minimum building heights are established to ensure proper spatial definition, encourage strong pedestrian spaces, and promote mixed use within buildings. The Main Corridor Commercial center provides for the sale of general merchandise and limited office employment with neighborhood service areas of two to five miles."